Inactivation of the 441st Military Intelligence Detachment occurred on October 2, 1980 at Fort Devens, Massachusetts
by Colonel Edward J. Lorentzen, United States Army, Retired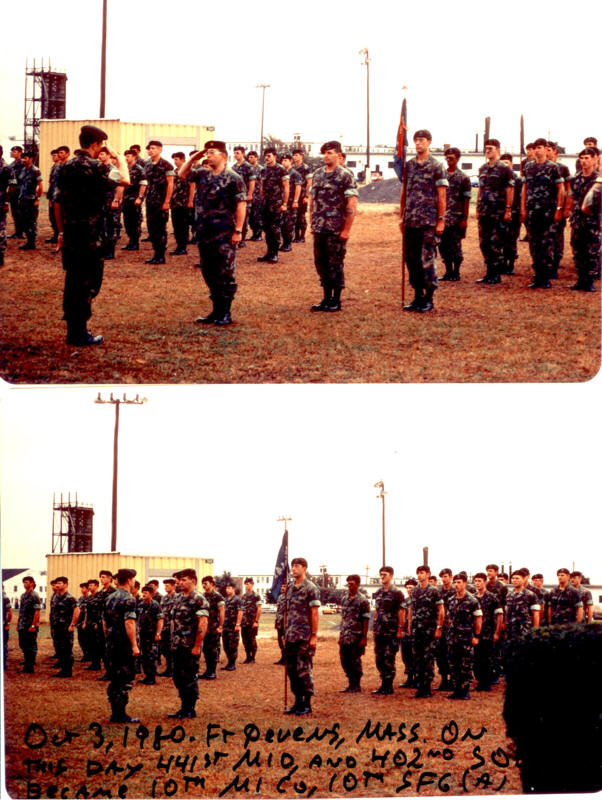 For higher resolution photo, see 441inactivation_enlarge.htm (Photo sent by COL Lorentzen)
Shown in Photo #1 (top photo) are the following:
COL Paris D. Davis, Commander of the 10th Special Forces Group (Airborne) (back to camera)
MAJ Edward J. Lorentzen, Commander of 441st Military Intelligence Detachment (saluting COL Davis) with 1SG Richard W. Kyles, Jr., Detachment First Sergeant and SGT Brian L. Butts, guidon bearer
Pictured to the left of the 441st MID are the men of the 402d Army Security Agency (ASA) Detachment (in front of the yellow metal shed). The men of the 402d ASA Det and 441st MID were merged into what became the 10th Military Intelligence (MI) Company (Airborne) which was immediately activated as the MI unit organic to the 10th SFG(A).
MAJ Lorentzen and 1SG Kyles were reassigned to HHC, 10th SFG(A) as Group S-2 Officer and NCOIC, respectively.
Photo #2 (bottom photo) contains info written on it about the inactivation. It shows MAJ Lorentzen directing 1SG Kyles to case the colors. You also can see better the entire unit, which at the time was about 22 men. (enlargement of photo at 441inactivation_enlarge.htm )

X. Commanders:
LTC Stephen E. Johansson, March 1976 – January 1978
CPT Jimmy W. Williams, January 1978 – January 1979
MAJ Edward J. Lorentzen, January 1979 – October 1980
V. History
By 1979, the two battalion and one group HQ support teams were known as MI Support Teams or MIST. The MIST provided tactical intelligence, counterintelligence, order-of-battle and imagery interpretation capabilities in garrison and when deployed. In garrison, the MIST continued their intelligence support of the ODA area studies program, JCET briefings/debriefings, and current intelligence evaluations. The 441st MID provided MIST in support of the Group SFOB and two battalion FOBs participating in FTX FLINTLOCK in 1979 and 1980. The MIST also deployed in support of the SFOB and two FOBs during the Group's ARTEP in October 1979. Meanwhile, unit training focused on MIST and individual skills needed to support 10th SFGA war plans, including affiliation training with the 44th Civil Affairs Company (USAR), Warwick, Rhode Island. The 441st MID was deactivated on 3 October 1980. Its men, and the 402d ASA Det, were reassigned to the newly-organized 10th MI Company organic to the 10th SFGA.
The 441st MID conducted its last airborne jump at Turner DZ, Ft. Devens, MA, on 12 Sep 1980. Not all members were able to participate. The Combat Equipment jump manifest listed the following 16 participants:
MAJ Edward J. Lorentzen
CPT Craig A. Morgan
1LT Paul A. Spencer
1LT Charles T. Cleveland
SSG Michael P. Vasecka
SSG Richard J. Farley
SGT Brian L. Butts
SGT Bobby J. McAlister
SGT Hayden P. Clarke
PFC Warren W. Walker, Jr.
PFC Michael A. Wilton
PFC Quentin Navarette
PFC Brian J. Sirois
PV2 Steven J. Werner
SP4 John D. Salenius
1SG Richard W. Kyles, Jr.
(COL Lortenzen's photos add significantly to the 441st web site. Many thanks to COL Lortenzen for his extraordinary military service and contribution of this invaluable history.)